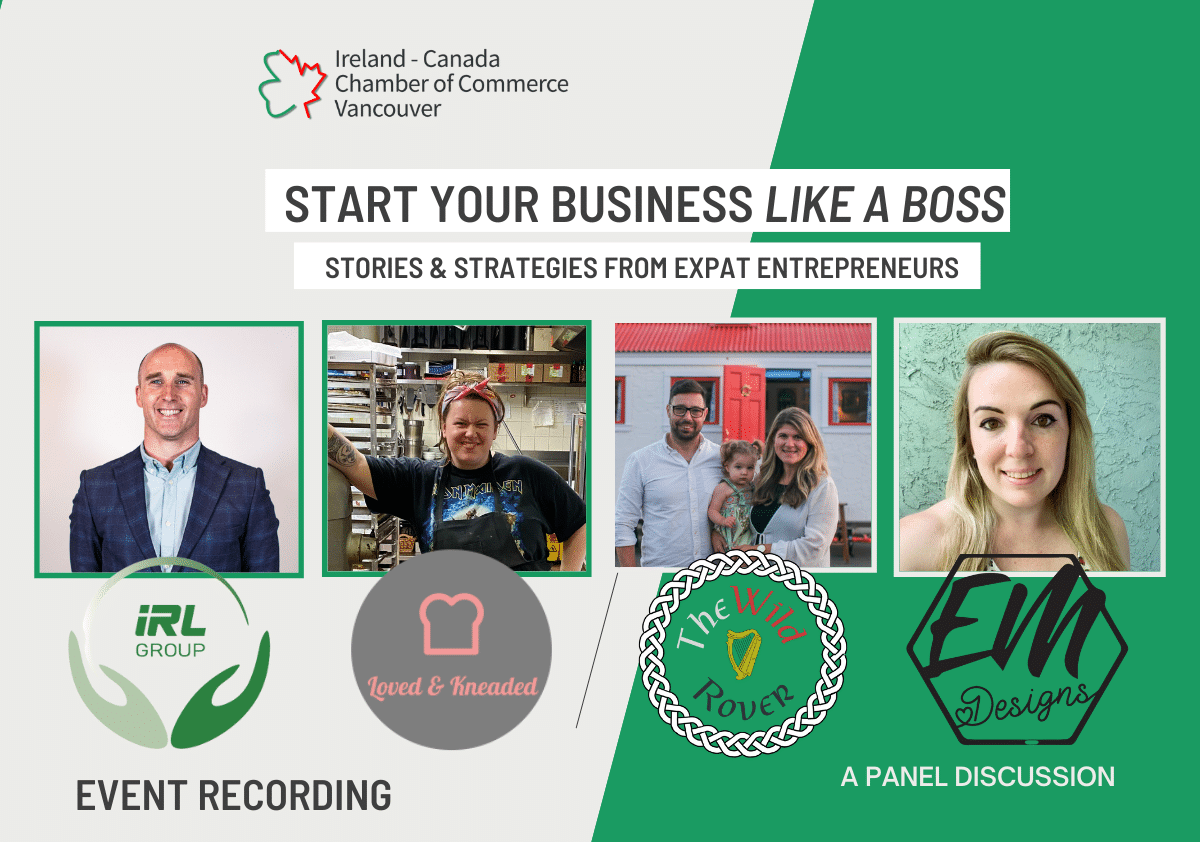 Start Your Business Like A Boss: Stories & Strategies From Expat Entrepreneurs
Watch the recording to gain insights into creating a lucrative business from a simple idea through to execution, and transform your hobby or skill into cash!
This event was moderated by Julie Connolly, ICCCVan Director of Events and featured 4 Irish expat entrepreneurs who have all started their own business or side hustle in Canada.
– William Donnellan, CEO and Founder of IRL Construction
– Sarah Gannon, Baker Extraordinaire & Founder of Love and Kneaded
– Danny Hamilton, Founder, The Wild Rover Mobile Irish Pub
– Emma McMahon, Founder, McMahonDesigns
Watch now  to learn from our panelists' personal experiences. This recording features a snippet of our post event networking.
Speakers
Danny Hamilton

Founder, The Wild Rover Mobile Irish Pub

Danny Hamilton, originally from Dublin, moved to Canada in 2013 and lives with his wife and two children in Victoria, BC. He came over as a bricklayer but in 2018 he set up his first business, Axe & Grind, an axe throwing club which now has 2 locations and a mobile unit as well. Last August, along with partner Warren Crolly, he started the Wild Rover Mobile Irish Pub as a passion project that has been hugely successful on the Island. Danny says, 'just having that little piece of home is what it is really about".

Emma McMahon

Founder, McMahonDesigns

As for so many, the pandemic meant that Emma couldn't travel home last Christmas and quickly realized that there were countless other Irish who call Canada home and were in the same situation. So, she decided to start up a small side business and create uniquely Irish gift sets and give those people a small taste of home to get them through this difficult period. She started off by printing designs on mugs, since a warm mug of tea always reminds her of home, and plans to expand into other merchandise soon with Irish prints on them. She also creates promotional materials for corporations, sports teams and event party favours!

Sarah Gannon

Baker Extraordinaire & Founder of Love and Kneaded

Sarah Elliott Gannon is originally from Dublin, Ireland. She moved to Vancouver in 2015 with her partner, Jack and their two cats. Sarah has always enjoyed baking and cooking, especially with her mum and nanny Doris. Loved & Kneaded allows her to share the techniques and recipes she learned growing up with other Irish living in Vancouver, as well as introducing new and exciting baked goods to all the locals!

Loved & Kneaded started in March 2020 when, like many others, the world threw a curveball. Baking voraciously, Sarah decided to advertise her products locally and the whirlwind success started almost immediately. She now provides a taste of home to many other Irish in Vancouver who are also missing their homeland.

Loved & Kneaded bakery specializes in traditional Irish baked goods, including soda bread, their signature scone selection, as well as (she thinks) the best sausage rolls in the Lower Mainland!

You can see the full range of products on www.lovedandkneadedbakery.com and follow on @loved.and.kneaded Instagram to be a part of this exciting journey!

William Donnellan

CEO and Founder of IRL Group

Born in Galway, Ireland, to a family of 12, William started his first business, in his early twenties.
In April 2009, William and his wife Laura moved to Vancouver Canada. What was supposed to be a six month working holiday at that time, has since turned into a decade, and an incredible success story.
Shortly after coming to Canada, William and Laura founded IRL Construction Ltd. A relatively small show back then, has now transformed into an industry leader, with numerous achievements and top level awards to its name.
Laura and William are now proud owners of multiple companies in Canada. William, a carpenter by trade and with a background in the pub business, always had an advantage he believed, he had the answer to the first secret of getting what you want in business, he knew exactly what he wanted, and he was willing to do anything to get it.
William also has a passion for real estate. He has owned and operated multiple properties in Canada and in Ireland, and is hoping to soon increase his portfolio by expanding into the US.
William has said, business to him is like a game, which he enjoys immensely, and has a lot of fun playing. He believes the most important things in business are, working with great people, that you enjoy working with, and having fun while your doing it.
William is a loving father and husband, who loves to spend time with his family. He also enjoys equestrian, going to the gym and playing hurling. Hurling is the national sport of Ireland. He has represented Canada, and played at a high level in Ireland, Canada and across the US.
William regularly dedicates time to help his local communities. He has been supporting clubs, societies, sports teams, hospitals, charities and more, for over a decade now. His construction company, IRL Construction, was recently recognized as one of the top 10 businesses in Vancouver, in a Best Community Impact category.
William truly believes, that he hasn't worked a full day for years. He insists that because he enjoys what he does so much, it cannot be classified as work.